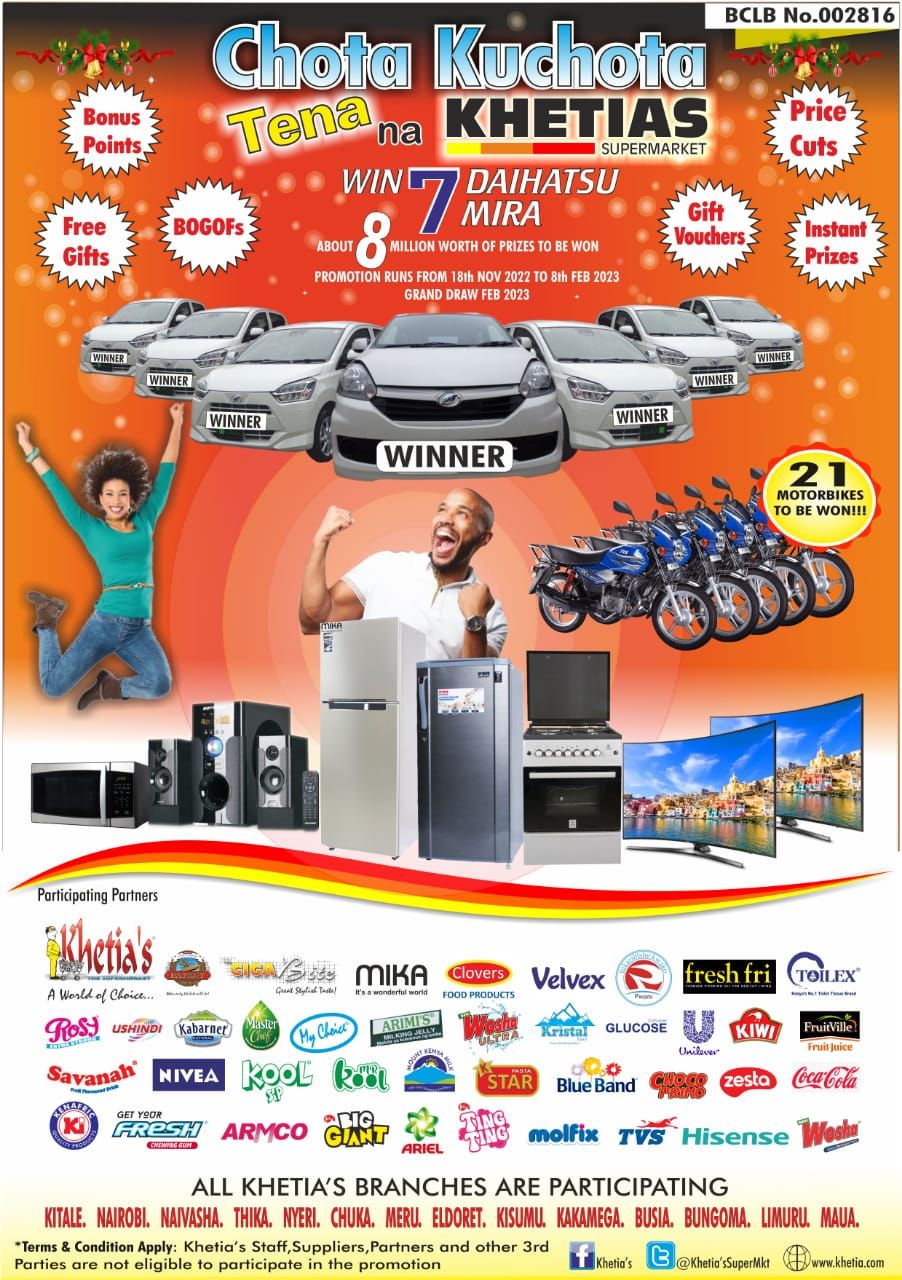 In Summary
Complaint letter to UDA
Application to Court
Prayers
Hearing Date
A Nairobi court has issued orders in relation to UDA's Bungoma Senatorial aspirant Eng. Timothy Kitangasi Lukorito application. It directed that;
The Notice of motion dated 28th Oct 2022 all supportive documents be filed and respondents be served immediately (by 2pm on 31st Oct 2022).
Responses be filed by 10am on 1st Nov 2022
The matter be listed for hearing before the Kakamega PPDT bench on 2nd Nov 2022 at 2pm
FLASHBACK;
On 26th Oct. 2022 UDA's Bungoma Senatorial aspirant Eng. Timothy Kitangasi Lukorito wrote a complaint letter to the party displaying his dissatisfaction with the way a former Bumula MP Hon. Mwambu Mabonga was picked with following due process
"I write to express my dissatisfaction with the party for failing to present my name for the party primaries to enable a democratic process at arriving to the candidate. This letter of complaint is therefore to request the party to amicably attend and indicate candidate intention yo proceed to the Election Tribunal should the party fail to satisfactorily address the matter." his letter read in part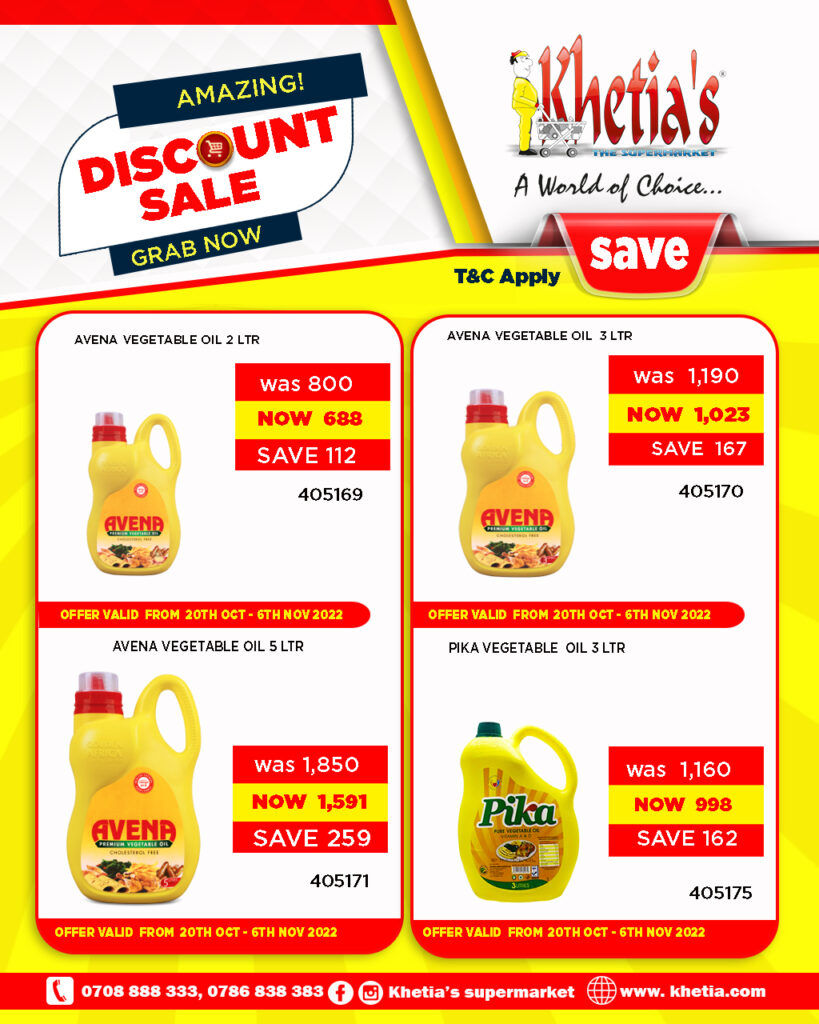 Timothy moved to have the matter addressed by the TRIBUNAL on 28th Oct 2022 via Complaint number E025 of 2022;
THAT UDA illegally forwarded the name of Mwambu to IEBC for gazettement as the sole candidate for the post of Bungoma senator
THAT Eng. Timothy has exhausted the internal dispute resolution mechanism where UDA's National Executive Council (NEC) has refused, declined and/or neglected to resolve his dispute
Timothy for lodging a complaint is today 31st Oct 2022 and NEC is yet to respond to his complaint
THAT if the Court tribunal doesn't intervene due process will be defeated unduly
Upon consulting IEBC Lukorito was shocked to discover UDA had submitted the name Mwambu Mabonga as its sole candidate a move termed as fraudulent and illegal by the complainant
PARTICULARS OF FRAUD AND ILLEGALITY
There was no names forwarded by UDA's County Executive Council to the National executive Council contrary to article 12.1(iv) of UDA party constitution.
UDA never published an invitation to members to apply for the post of Senator
UDA never conducted primaries
The party forwarded Hon. Mwambu's name in utter violation of Article 8.1 (xiv) of UDA (lack of free, fair and transparent elections)
No action was taken by the party despite his documented complaints.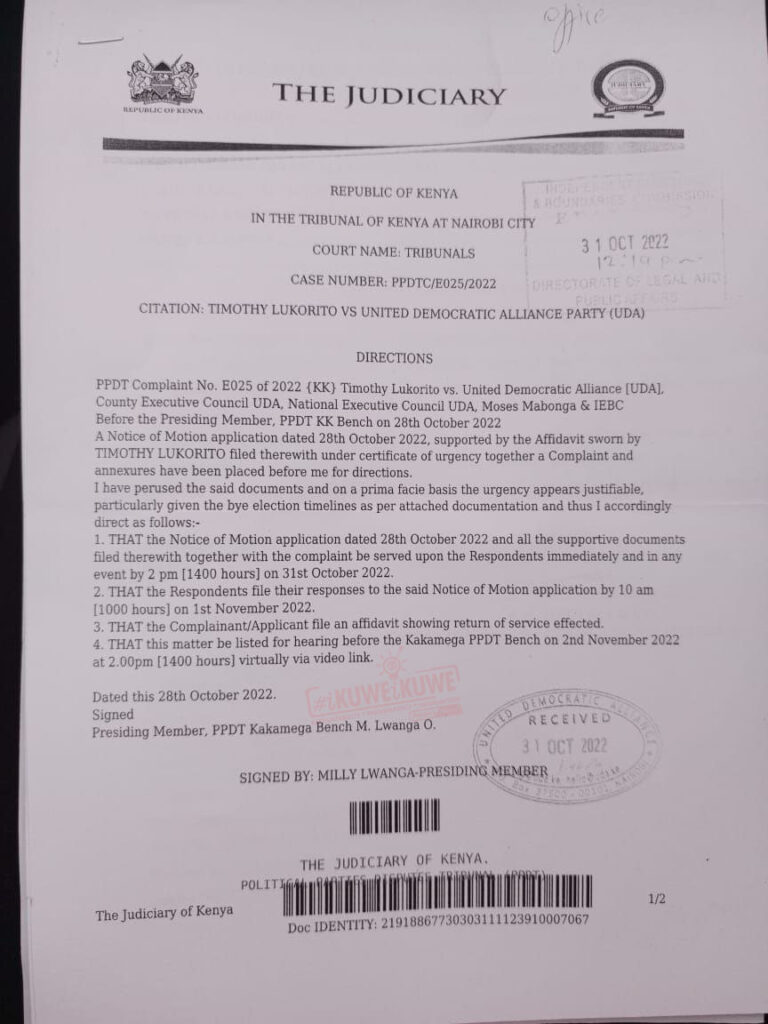 Prayers;
UDA's submission of Mwambu's name be nullified
UDA be compelled to adhere to its Constitution in electing candidates to elective office
Permanent injunction barring Mwambu's gazettement as UDA's sole candidate for the post of senate
Costs
The matter be listed for hearing before the Kakamega PPDT bench on 2nd Nov 2022 at 2pm