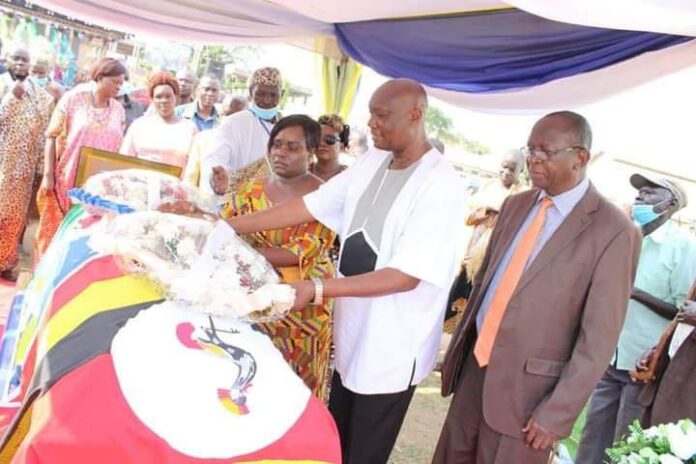 EMORIMOR WAS BEHIND CONSTRUCTION OF TESO HOMESTEAD AT BOMAS OF KENYA – OJAAMONG

Busia Governor, H.E Sospeter Ojaamong has eulogized the Iteso cultural leader the late Augustine Kadugala Lemukol Osuban as a unifying factor who ensured the unity and harmony prevailed amongst the Iteso and their neighbours.

In his tribute after a requiem mass for the fallen Osuban Papa Iteso at Soroti Sports grounds today, the Governor who is leading the Kenyan delegation for Papa's final journey said the Iteso King was instrumental in the construction of the Teso Homestead at the Bomas of Kenya in Nairobi.

"That is the landmark Papa Iteso did in Kenya which we shall continue to cherish. People visiting the facility can enjoy traditional foods, busaa and many others," he said.

H.E Ojaamong said the Iteso community in Kenya remember with nostalgia the unity brought by Papa Iteso which saw him win the Governorship twice despite coming from a minority tribe.

Cultural leaders at the Iteso cultural leader Augustine Kadugala Lemukol Osuban's burial on 17-2-2022

" We respected his invaluable advice which entailed loving each other and to work hard to realize the community's cherished goals," he said, noting that they have come to give their cultural leader a befitting sendoff.

Soroti City Mayor, Edogu Joshua said H.E Ojaamong is spot on over the Teso Homestead in Kenya's capital. " I happened to have travelled to Nairobi where I visited the homestead and ate traditional food. This confirmed Kenyans love for the Iteso Culture."

National Resistance Movement Vice Chairman Eastern Region, Captain Mike Mukula lauded the Governor for being the pillar and epitome of Teso culture in Kenya, urging other leaders to emulate that magnificent feat.

Uganda's Prime Minister, Hon Robina Nabanja in her message read on her behalf by State Minister for Gender, Labour and Social Development, eulogized Emorimor Papa Iteso as a strong pillar in development of Uganda and for embracing peace, harmony, unity for 22 years he was on the throne until his demise, noting that the fallen cultural leader cherished tree planting and education.

Messages of condolence were delivered on behalf of Kabaka of Buganda Ronald Mwenda Mutebi and Prime Minister of Bugwe Kingdom in Busia Uganda, Canon Wanyama.

Cultural leaders while eulogizing their leader sent a passionate plea to cultural leaders to honour the ideals of Emorimor Osuban by not vying for political seats in both Uganda and Kenya.

The Governor later led the Kenyan delegation in laying a wreath in honour of the fallen icon. Others were Emorimor's widow, Toto Akaliait Agwang, Mike Mukula and Iteso Cultural Union officials among others.

The late Iteso Cultural leader Augustine Kadugala Lemukol Osuban

Photos:-

Busia Governor, H.E Sospeter Ojaamong laying a wreath in honour of Iteso Cultural Union at Soroti Sports Club on Thursday.

2.Busia Governor, H.E Sospeter Ojaamong in Soroti on Thursday.
~ Olita Reuben ~