Bungoma County Enforcement officers are up in arms after missing their parade-allowances for three consecutive events. The irate men and women have reached out to ikuweikuwe.com to display their frustrations saying even reaching the governor they overwhelmingly campaigned and voted for became a Hercules task and immediately after tabling their grievances through a private meeting, victimization and witch hand stepped in.
ikuweikuwe.com has received this letter;
Hi Edduh Please tusaidie, Sichangi hatupeleki poa. During the inauguration parade we were paid Kshs. 1,000 each despite the fact that we practiced for over a week with some of us traveling from as far as mt Elgon,Kimilili,Bumula and Tongaren daily. Our boss Sichangi adopts a harsh-mode whenever we ask him for our money. He claims that the accounts office is processing the money but our intel informs that money was released long ago. Confronted with this new development Sichangi becomes harsh as usual and no one is therefore able to ascertain where exactly the money went to.

Yes, we were paid Kshs. 1,000 each officer on inauguration day. No transport, lunch allowances for the other 6-7 days we travelled to train daily. Tukiuliza sichangi anakuwa mkali kabisa mpaka tunaogopa

We have not been paid allowances for the following parades;

Governor's official reporting to office
Lusaka officially opened the Assembly
Mashujaa day

Director seem not so concerned about the following serious concerns;

1. NCOs (Sergeant, corporals, majors) Were promoted 'locally' on director Sichangi's command, without the involvement of the Public Service Board and the HR department

2. The following officers are holding offices they don't qualify to;

New Administrator – Puria

Human Resource officer – Mrs. Mercy is an Auditor by profession

3. Procurement Officer and director;

Procured poor quality boots (tears in few months)
Unfitting, poor quality Uniforms that fade within no time.
Working Uniforms – given 2017 and 2022 (5 years apart)
Also read:
1. https://ikuweikuwe.com/2021/02/27/this-is-how-the-county-govt-pays-back-enforcement-officers-who-collect-millions-of-imprests/
2. https://ikuweikuwe.com/2022/10/19/governor-ken-lusakas-assembly-speech-10-point-agenda/
4. Incomplete Ceremonial uniforms

Without belts
Without caps
Without lanyard

Wekelekha Vocational Training Centre, a multi-million facility former governor Wycliffe Wangamati launched for the purposes of designing and making of County staff Uniforms.
4. Sichangi playing hide and seek as a way of evading accountability questions. He has ensured he blocks anyone he imagines is his carrier threat from working around for fear that they might take up his job.

5. We want refresher course which would then assist us get promotions

6. Director doesn't release professionals who wish to re-designate. A trained plant operator can't move to Mabanga ATC for example. Ati abaki tu kuwa soja

7. No learning opportunities are given to enforcement officers (county funds). further studies

And to make worse the officers are still on probation for entire 5 good years and the director don't want explain or be asked anything

Please wewe ni mtetezi wetu speak for us, ask governor to come to our rescue, Our depart is rotten
~ Anonymous officer ~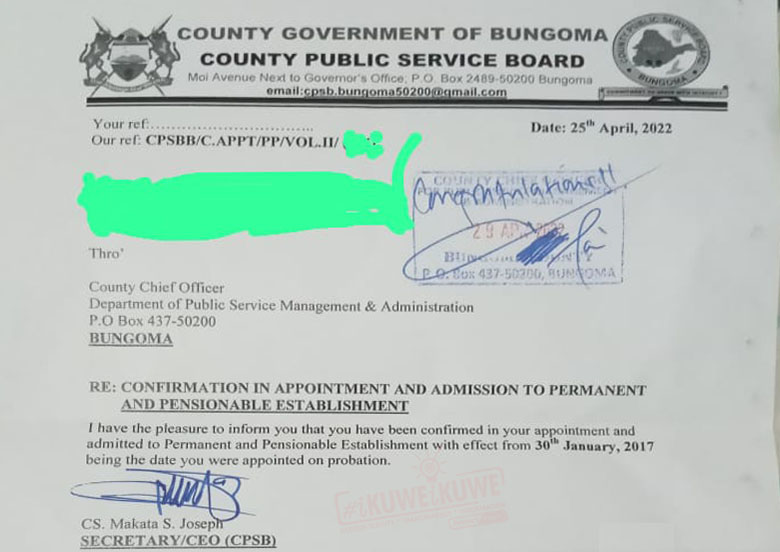 Upon some officers secretly meeting the governor it was resolved that promotions will be done ASAP, then came these letters that are dated 25-4-2022 but issued in Oct 2022
Rejoinder;
Upon reaching Sichangi for comment;
He distanced himself from the issue of funds saying he can only pay money he has been given. He indeed confirmed that his depart received funds for the inauguration (@1000) and nothing else since then.
He indicated that getting allowances for doing a job they (officers) are employed to do is a favor and therefore any attempt to force things might lead to a total loss of the same.
He distanced himself from issues pertaining procurement of uniforms saying that's not his work but the work of the procurement department.
He nevertheless encouraged officers to embrace the idea of soughting out issues inhouse and not in public domain.
He concluded by asking his juniors to be patient until treasury releases their allowances if any.
On promotions, he distanced himself saying some he has heard officers promoting themselves verbally but there exists an organ that is responsible of legally doing that.