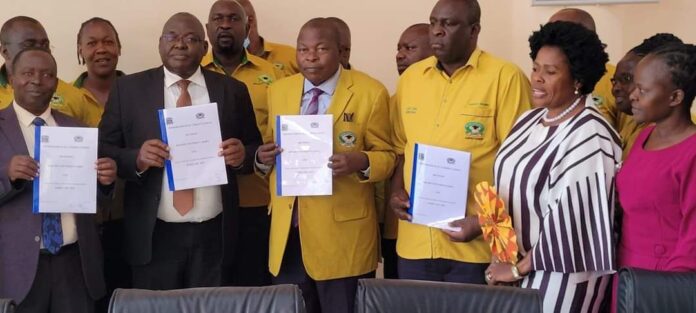 Kenya Union of Post Primary Education Teachers (KUPPET) National board and Bungoma branch officials signed an MOU with Kibabii University on 15th Feb 2023 at Kibabii University that is meant to give scholarships and discounted school fees to KUPPET Union members who wish to pursue Masters and PhD programmes at the University.
Speaking at the University after a meeting between the KUPPET officials and University administration, Kibabii University Vice Chancellor Prof Isaac Ipara said that already over 700 teachers have benefited from the scholarship from the programme in the initial arrangements and were hoping to enroll even more given the importance of education
The agreement is expected to provide KUPPET members with the necessary upgrade to align with the new curriculum which mandates teachers to develop skills on how to handle subject adjustments and transition to a Competency based Curriculum system.
This MoU comes at a time when the Education System is undergoing significant changes, including the introduction of new learning areas.
Akelo Misori the secretary General of KUPPET said that the agreement targets mostly those who study mathematics and will go a long way to help teachers, as he called on the recently employed teachers to take advantage of the programme and advance their careers.
The V.C noted that the programme will play a vital role in producing and training teachers for quality education.
Bungoma Women Representative Hon Catherine Wambilianga indicated that Parliament will work on the issue of funding