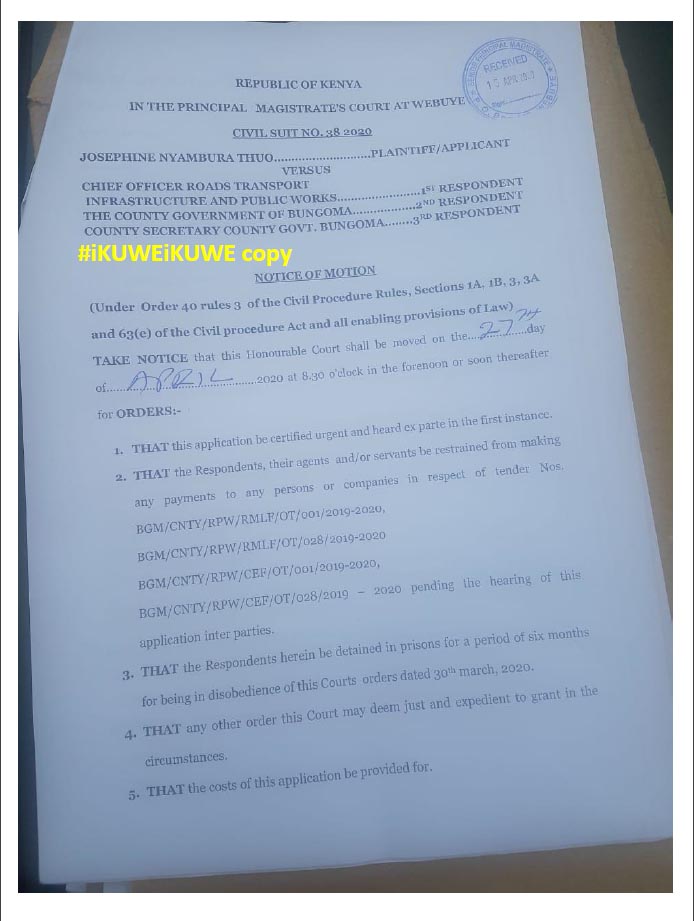 COMPLAINANT ASKS COURT TO STOP PAYMENT OF SUSPECT CONTRACT AWARDS, TENDER AWARDS RISK BEING CANCELED
▪️County Secretary risks being jailed for 6 months… For ignoring court orders
? Among the issues raised:
▪️Irregular Procurement process
▪️ The affected bidder complained to the procurement oversight board with no reaction
▪️COMPLAINED to the EACC Bungoma but received NO reaction
▪️ She raised a complaint in COURT… But the COURT ORDERS were IGNORED by Bungoma County govt who proceeded to hand over sites to contractors
▪️She has NOW requested the COURT to STOP ANY PAYMENT to the said contractor(s) until the case is heard and determined
?The roads Chief Officer and the County Secretary risk being jailed for 6months
?Court shall be moved on 27th APRIL 2020
⛔In a REJOINDER one of the roads depart's top official claims the tendering period was NOT 30 but 120days?
Download court orders here; COMPLAINANT ASKS COURT TO STOP PAYMENT OF SUSPECT CONTRACT AWARDS
➖➖➖➖➖➖➖➖➖➖
▪️ Why does Bungoma county govt IGNORE court orders?
? "EXCEPT for those contracts that are under RMLF… where funds are being fenced from misappropriation. Where will money come from if/when the contractor(s) complete the roads …. particularly the CEF Ward Roads .. the money must have been used to pay off DCW Brigadier and other roads. THERE WILL MOST LIKELY BE A PROBLEM" says one learned friend
Also read: ?? https://m.facebook.com/groups/172326520314211?view=permalink&id=519176792295847
..
.
eDDUHSimiyu
iKUWEiKUWE
20.04.2020@15:48hours