In Summary;
Impeachment motion of the CEC Health
Impeachment motion of the CEC Public Administration
Sideshows
Impeachment motion of the CEC Health, Dr. Antony Walela
The County Assembly of Bungoma today Wednesday, June 17, 2020 during the impeachment motion debate, voted to impeach the Health CEC Dr. Athony Walela following recommendations by the COMMITTEE ON HEALTH, A REPORT ON – UNPROCEDURAL TRANSFER OF FUNDS FROM BUNGOMA REFERRAL HOSPITAL AND EXPENDITURE TOUCHING ON COVID -19 MITIGATION AND OTHER FINANCIAL MALPRACTICES IN THE COUNTY GOVERNMENT OF BUNGOMA
An Adhoc committee was formed comprising of the following MCAs;
Ben Kipkut
Reba
Martin Pepela
Fred Musebe
Grace Sundukwa
The Committee has 10days to interrogate and deliver a report in the house

While the debate was underway, The CEC took to social media posting,,, "Na hawatakula hata ndururu yangu. They will never get a cent from me". A statement that's clearly indicating that he was supposed to buy his freedom from the impeachment. A thing he was not ready to do.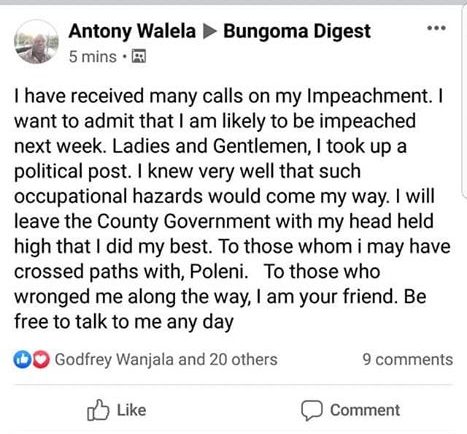 During the debate the Bukembe East MCA, Hon Jorum Wanjala was thrown out and therefore suspended for the remainder of the day and notice of one month suspension should he fail to tender a satisfactory apology to the speaker by tomorrow morning for his unParliamentary conduct
Impeachment motion of the CEC Public Administration, Mr. Richard Kabwami
On Wednesday, June 17, 2020 afternoon session the County Assembly of Bungoma during the impeachment motion debate, voted to impeach the Public Admin CEC Mr. Richard Sabwami following recommendations by the COMMITTEE ON HEALTH, A REPORT ON – UNPROCEDURAL TRANSFER OF FUNDS FROM BUNGOMA REFERRAL HOSPITAL AND EXPENDITURE TOUCHING ON COVID -19 MITIGATION AND OTHER FINANCIAL MALPRACTICES IN THE COUNTY GOVERNMENT OF BUNGOMA
An Adhoc committee was formed comprising of the following MCAs;
Busolo Sudi
James
Violet Makhanu
James Barasa
Jack Kawa
The Committee has 10days to interrogate and deliver a report in the house
EARLIER; Sirisia residents had arrived in the assembly in their tens to petition the MCAs not to impeach the Public Administration CEC for he was the only one from the constituency in the regional balance act at the executive level.