In Summary;
Accident (video)
Comment (Edwin ~ Politician)
Online reactions
Assorted images
#iKUWEiKUWE Corner
A Nairobi Bus Company PSV ferrying commuters from Lwakhakha border to Nairobi on Saturday 7th Jan 2023 veered off the road after losing control while negotiating a sharp bend and in the processes rolled landing on top of a bodaboda rider carrying a mother and a small child to Hospital.
The accident threw two neighboring Countries Kenya and Uganda into panic as social media went abuzz with images, comments flying around about the bizarre accident that happened around 6pm. A glimpse of a screenshot from a Ugandan WhatsApp group inform that Ugandans immediately tipped their countrymen on the bad accident as one wrongly placed the scene of accident on the Ugandan side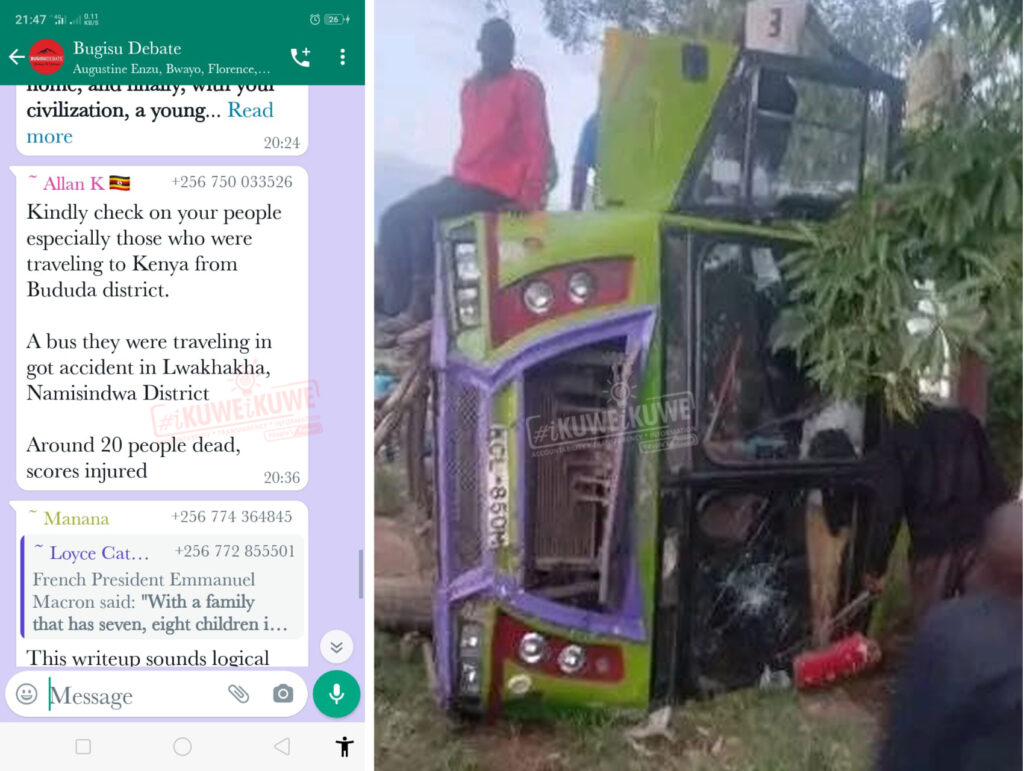 Speaking to ikuweikuwe.com Danny a Lwakhakha resident informs that scene of accident is actually a black spot, a corner that the seemingly new Nairobi bus driver had no clue of. He must have approached it in high speed losing control in the process. The victims died on the spot as the bus rolled over them and it took hours of combined efforts to literally tear the bus to free passengers and the deceased.
It took the combined effort of Sirisia, Chwele Hospitals and Cheptais dispensary to manage the 62 passengers plus driver who sustained injuries. Sirisia residents led by their MP Hon. John Waluke gave the needed support to get the injured out of the wreckage.
Edwin Wanyonyi a politician from Lwandanyi ward in Sirisia condemned the incident as he pleaded with Bungoma Governor Ken Lusaka to improve medical facilities and the National govt to equip the neighboring Police station.
Online reactions:
This evening I have just rushed to the scene of accident at Namundi in Lwandanyi ward where a Nairobi bound bus involved in an accident.
The bus lost control and veered off the road hitting a bodaboda rider, a woman and child who died on the spot. ~ User
Passengers in the vehicle sustained multiple injuries and rushed to various hospitals for medication. I send my condolences to the families who lost their loved ones and wish quick recovery to those injured. I will engage relevant authorities to reach a way of mitigating accidents on Lwakhakha-Chwele road that are claiming the lives our people. Sad. ~ Hon John Waluke
Rodgers wa Simiyu Lazaro amepoteza bibi na mtoto… then Fred wa pale uganda, hua anaendeshea siho pikipiki pia ametuacha ~ Elvisbae
That place has bad history. From thugs hijacking pedestrians to vehicles overturning. A slightly steep place and on a sharp bend hapo ndio shida. Vehicle inspection should be enhanced too. ~ Derickmutegi
No breakdown or towtruck, traffic police unit and emergency response unit even at subcounty level? Siasa mbovu indeed… ~ Derickmutegi @21:36
Kwa kweli security police wa Lwakhakha walijaribu sana kuokoa mali ya waathiriwa pia kuitisha Ambulance ya Cheptais na Sirisia pia Land cruiser ya Police kutoka Malakisi na Sirisia kwa kuokoa. I was at the scene upto 9:20pm at that time only one body was still under the recked bus. Thanks to the Youths of LWAKHAKHA who saved many casualties by taking them freely to Lwakhakha and Koroshondeti dispensaries. Thanks also to the Nurses. By 9:20pm only 3 people had been confirmed dead but let's establish more information this morning. Credit to Hon WALUKE for the quick response at the scene to share grief with the people of LWAKHAKHA. ~ Levi nabangi mutala
#iKUWEiKUWE Corner:
This accident literary declared us unprepared for disaster… just lifting the bus off the three took hours. Residents had to step in to assist free passengers from the wreckage.
Right from setting free of casualties from the wreckage, to transporting them to various facilities, to admitting them was a huge challenge.
Our health facilities were overwhelmed
I'd nevertheless give the medical team a pat on the back for doing their best despite the challenges faced..
Bungoma County must prioritise enhancing our preparedness: From emergency/hotlines, to fire services, to enough equipments and manpower
Assorted Picture: