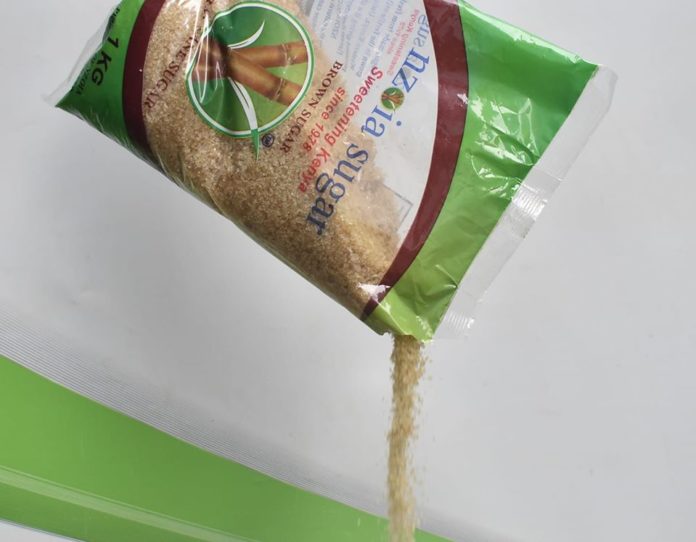 This was one of the many times goods have mysteriously gotten lost from the stores depart. without a trace.
While on leave mid April 2020, the Electrical Engineering manager, Mr. Remmy Wanyonyi's password was 'used' by some Nzoia Sugar Company employees to access the company's stores where electrical items worth Kshs. 252,000/= were stollen. An #iKUWEiKUWE rat informs that the company has lost much more in goods/equipments running into hundreds of millions thru such theft…
The company took the following disciplinary measures;
Former assistant finance manager, Peter Simiyu and Evance Kadenge were redeployed to Purchasing depart.
Gladys Ndung'u – stores Mgr & Ag. purchasing Mgr…      Suspended
Lilian Khamete – Superintendent…                                 Suspended
Joyce Njoroge – factory stores in-charge…                      Suspended
Other casuals were also suspended pending investigations
The Key suspect Edwin Angachi alias ODM is at large
………………………………………………………………………………………………………..
Developing story on 228 bags saga… 
Last week the company losts Kshs. 960,000/= worth of sugar = 228 bags…
A 'client' only known as UNLIMITED is said to have 'paid' 960,000/= at KCB Moi Avenue – Nairobi on Wednesday
Parking was done on Thursday but he could not collect the goods because the weighbridge malfunctioned
He collected the cargo of 228 bags on Friday, May 22, 2020 but not before a senior finance officer confirmed that 'money had reflected'
Cargo is NEVER released without a confirmation of payment (receipt/bank slip /MPESA transaction SMS)
A client signs 4 times before a cargo is released
Payment is NEVER by cash… either thru the bank or PAYBILL; 802160
The customer only known as UNLIMITED by name… is said to have left Nzoia environs on Saturday
The MD was not around
Kotut the finance guy is on leave… Khisa is acting Finance boss
The missing cash was discovered on Monday, May 25, 2020
KCB Bungoma later informed Nzoia that the bank slip is FAKE (ya river road)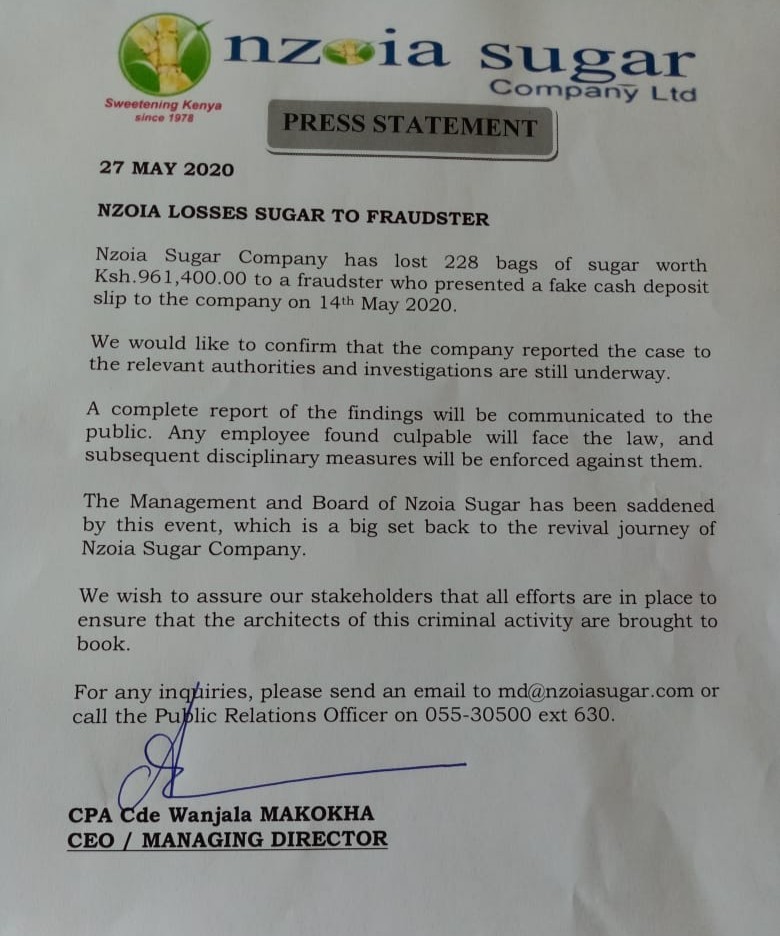 Now you know why Nzoia MD, Mr. Makokha has an uphill task reviving the company…
From a theft of electrical items worth Kshs. 252,000 to 228 bags of sugar worth Kshs. 960,000/= disappearing without a trace
ALL THESE LOSES ARE INSIDE JOBS!!!