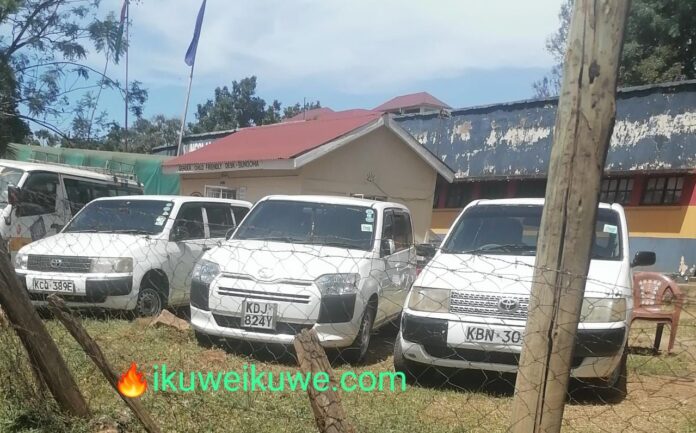 In summary;
Hiring of Goons to attack Dan Wanyama
Desperate message from Taxi operators
How Sikuta's attack was planned
Arrests
Police faulted
Rejoinder Lendrix
#iKUWEiKUWE Corner
Dec 8th 2022 Bungoma Senatorial by-election was hugely a peaceful exercise until the voting day just like the Kabuchai by-election which saw unignorable violence involving the lion party. Whereas it is known that the party leader looks harmless his followers have proved to be something else.
Kabuchai by-election: Joseph Majimbo Kalasinga garnered 19,274 votes trounced seven other candidates in a hotly contested mini poll. This represented 65 percent of the total votes cast of the total 57, 654 registered voters
Bungoma Senatorial by-Election results: 
| | | |
| --- | --- | --- |
| NO. | NAME | VOTES |
| 1 | David Wakoli Wafula | 66,032 |
| 2 | Moses Mwambu Mabonga | 45,907 |
| 3 | Athanus Wafula Wamunyinyi | 20,519 |
| 4 | Julius Masinde | 1,009 |
| 5 | Fred Busolo Simiyu | 564 |
| 6 | Elias Barasa | 549 |
| 7 | Enock Opara Makokha | 346 |
| 8 | Aaron Wafula Wanjala | 289 |
| 9 | Raidon Wekesa Munoko | 251 |
| 10 | Geoffrey Barasa Wanyonyi | 166 |
| 11 | Robert Sifuna Wekesa | 122 |
The latest acquisition of the party include youthful, aggressive and ambitious members some with questionable income with one having been dragged to court before for killing a university student a son to the then Chief officer of Public Admin in Bungoma County 2013-7
Desperate message from Taxi operators
A desperate message from one of the taximen got me worried and therefore unleashed my rats to sniff for more info. It reads;
Eddu please tusaidie. Sisi watu wa taxi wenzetu washikwa juu ya kufanyia Lendrix Kazi ya kuchunga kura za Ford Kenya wakati wa kura. Watatu wamelala cell siku kumi na tatu sasa. Magari tatu zilishikwa ati ndio walitekanyara Sikuta wa uda. Polisi hawajashika lendrix mwenye alilipa hawa Kazi wananyanyasa watu wetu tu

Tusaidie please tufanye Harambee ya 125000 tupee Sikuta aachilie watu wetu. Kila mtu wa Ford Kenya ametutema sasa. Ni wewe unawezatusaidia. Mama ya mmoja alienda kuona seneta Weta akaambiwa waende tu kotini. Kweli siasa ina wakora. Yaani majamaa walipigania Ford Kenya Lakini saa hii Hakuna mtu wa Ford Kenya ako tayari kutusaidia. Picha za magari ndio hizi ukitaka zingine nikutumie.

Kesi iko 5.1.23. Nakuaminia ndugu. Tusaidie na umulike hii story kabisa ikueikue ndio mtetezi wa wanyonge
ikuweikuwe.com shared the above message with top Police officers in the wee hours of 4th Jan 2023, a move that's suspected to have prompted today's arrest.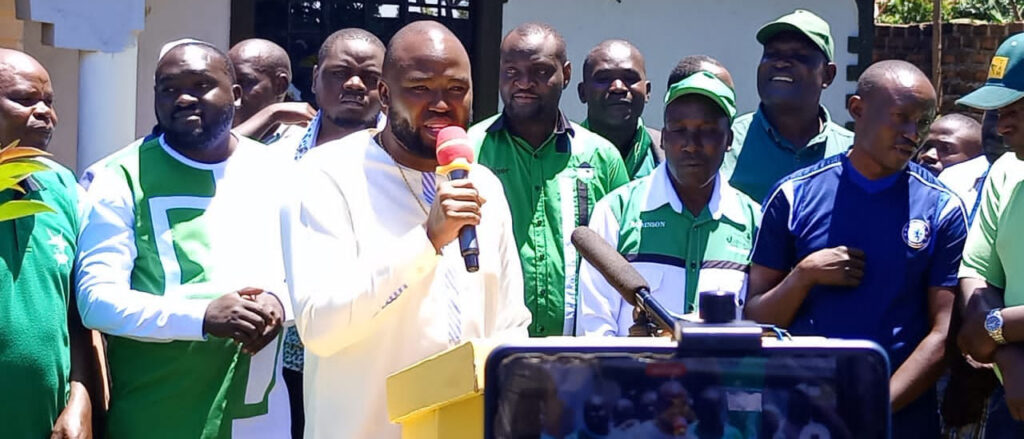 Before I get involved in any fundraisers I chose to first do my due diligence which involved several calls, Police visits and and one-on-one interrogations…
Hiring of goons;
According to my rat One Collins called Bally a taxi driver on 7th Dec 2022 at around lunchtime inquiring on the availability of vehicles for hire to be used by Ford Kenya party and Lendrix waswa to be precise. Bally as usual didn't have a vehicle then opted to outsource bringing onboard Abu who then put together 5 proboxes (as specified by the client). They were then asked to meet the client at Mutengene for further briefing.
They did fuel the vehicles before proceeding to Mutengene resort located at Makhese area Misikhu where they are said to have met Lendrix Waswa and given brief which was as simple as ferrying Ford Kenya agents and protecting votes. It's also in this meeting that they were informed that they'll work for 24 hours instead of the earlier agreed 12-hours work. They nevertheless agreed.
From Wednesday 7th Dec evening they did their transportation work as briefed but mostly carried what Mwasame of NTV would call; vijana wenye sura za kisirani, miili tinginya na nywele mbuyembuye wanaotisha (goons). The work of these goons was to "protect" Ford Kenya Wafula Wakoli's votes.
How Sikuta's attack was planned
The goons left Mutengene for Mabanga on 8th Dec 2022 evening where they were scheduled to do an operation whose main target was Webuye West MP Hon. Dan Wanyama. The instructions were to kidnap, rob and beat senseless ("kill"). anyone else found with Dan was to be roughed up and let go.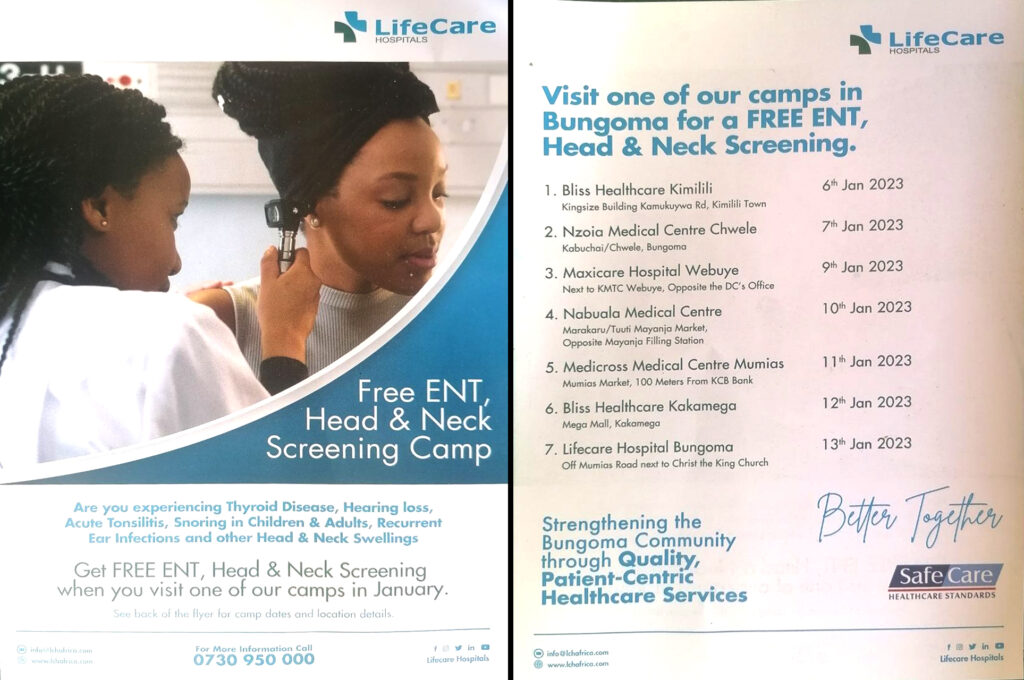 They landed at Golden heart hotel at mabanga at about 6:30pm where they found and kidnapped Moses Sikuta a UDA Bungoma Chairman who had just seen off Dan Wanyama and was now holding cash (allowances) for agents. They bundled him in a Probox KCQ 389E escorted by about six vehicles and headed straight to webuye. Occupants in the Sikuta's holding-vehicle had guns with one holding a rifle ("long gun") while three others had pistols.
They drove to Webuye flyover where they were joined by four black Prados and headed straight to a jaggery in Maraka ward (Opposite Catholic Church on Nairobi-Malaba highway). On arrival at the jaggery the gatekeeper opened the gates swiftly without questions as if he had been briefed earlier of what was happening.
They beat him, tore his clothes and forced him to implicate Webuye West MP Dan Wanyama in a vote rigging plan and praise the Ford Kenya party leader Moses wetangula as follows (see video taken by the said kidnappers);
VIDEO: Sikuta at the hands of kidnappers: https://youtube.com/shorts/fj8dumD5O3M?feature=share
The video above went viral as sikuta reported at Bungoma Police for action.
After taking the video they bundled him in a Prado, blindfolded him and dropped him in a sugarcane plantation at Matulo airstreep. Trau
Three taxi drivers out of the five drivers of the said vehicles were arrested and arraigned in Bungoma Court on 27th Dec 2022 where the police request to detain them for days pending investigations which was granted. They are scheduled to appear in Court tomorrow 5th Jan 2023.
Police faulted:
Upto today 4th Jan 2023 as the drivers rot in police cells, the Police were yet to arrest Lendrix who is said to have hired them, his middle man (collins) who sourced for the taxis neither has the police interrogated Mutengene management to ascertain if the meeting indeed took place there as claimed. The police who are said to be in custody of photos of other vehicles (Prados) are yet to make arrest of the said drivers of the Prados… They are yet to recover the firearms at the scene of crime. The person who took the video has not been arrested, The jaggery gatekeeper is yet to be questioned… and finally, the cash robbed from Sikuta is yet to be recovered.
The taxi fraternity is now working on raising funds to have their colleagues released as they regret having worked with thankless and irresponsible characters.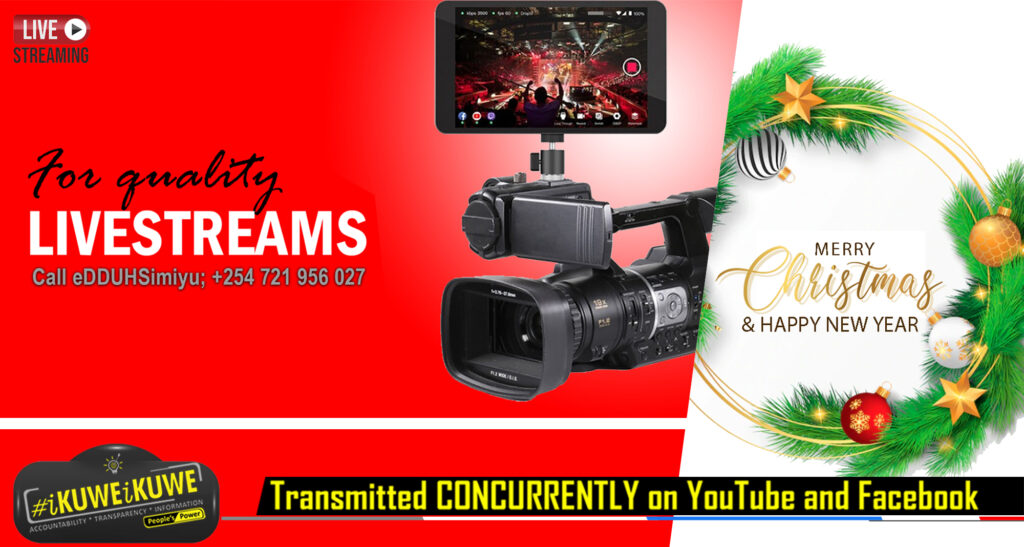 #iKUWEiKUWE Corner;
It must be remembered that Henry Lendrix Waswa murdered Mr. David Kibiti's son in cold blood. A case that he is said to have using money to frustrate.
The Police must know that whatever they do its a precedence they are setting; Either they tackle criminals or they will have everyone devising ways of defending selves against these blood thirsty thugs
Bungoma people should now know the kinda leaders you praise and work with… When it's time to return favors they abandon you.
Otherwise I believe people would have died at Golden heart hotel should there have been a confrontation with Hon. Wanyama.
Mheshimiwa Dan should beef up his security.
ikuweikuwe.com is informed that this afternoon a contigene of Police from Bungoma was dispatched to search Mutengene Resort and any other facility that the Taxi drivers and goons ever visited.
Here is a rejoinder from Lendrix who was then at Bungoma Police after he was arrested this evening of 4th Jan 2023;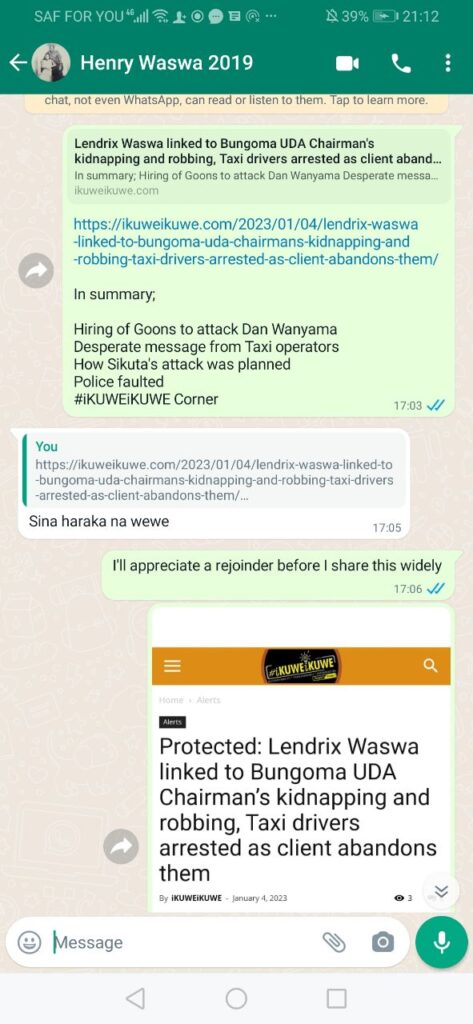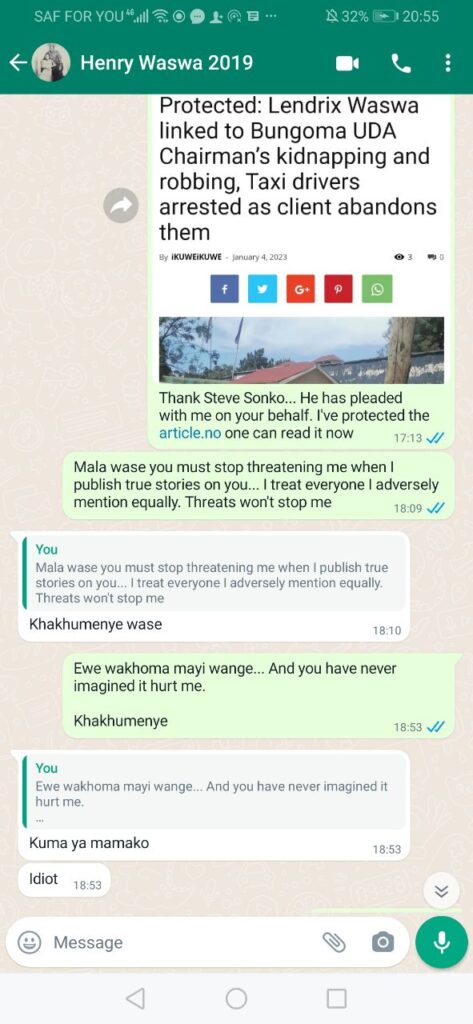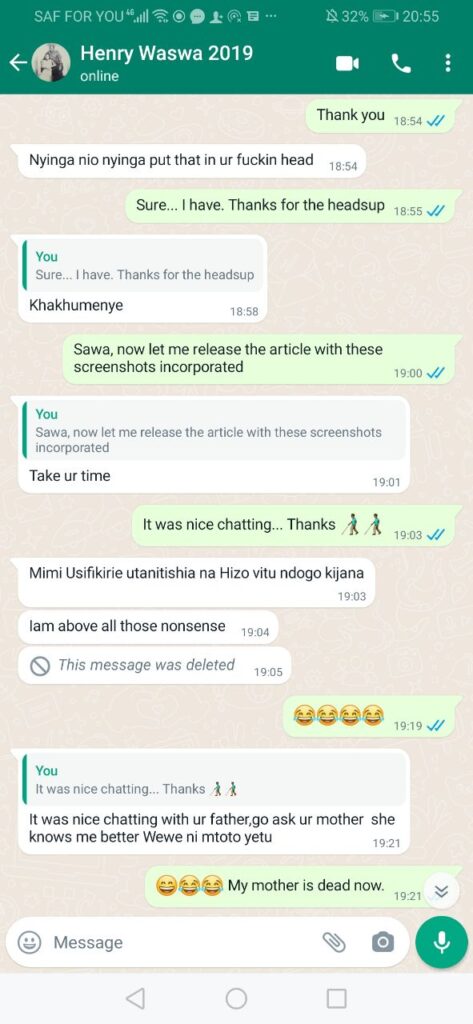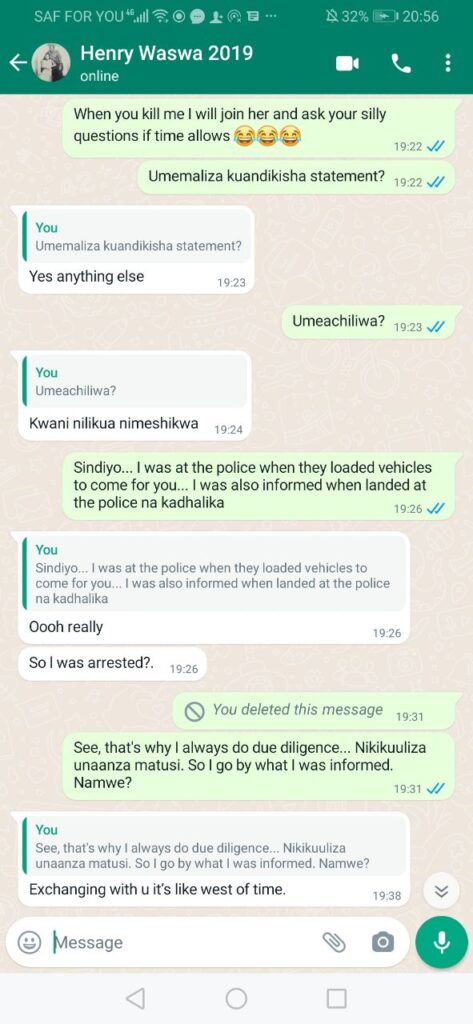 By: #eDDUHSimiyu #iKUWEiKUWE