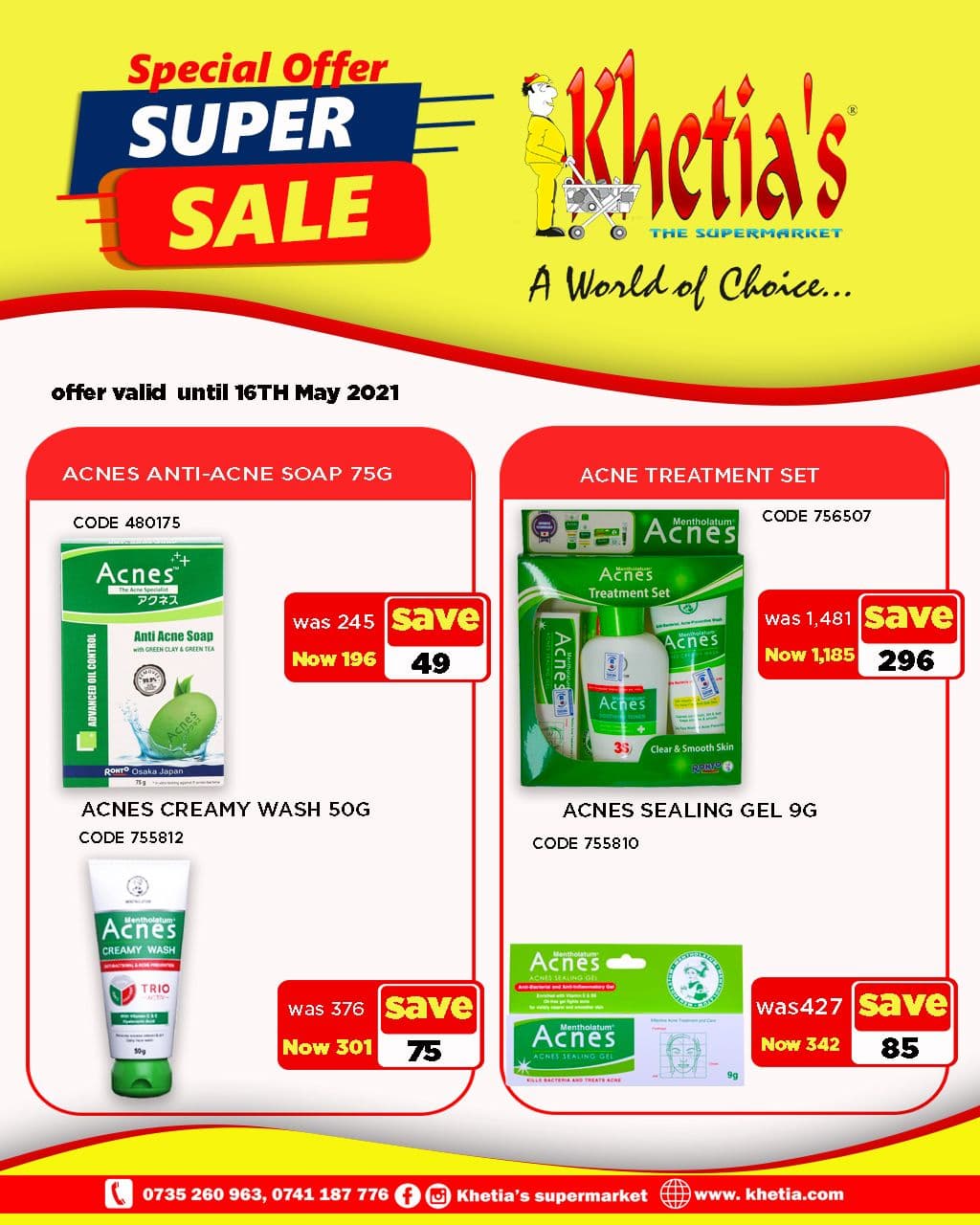 In Summary;
Fundraiser
Miscommunication
PR stunts
#iKUWEiKUWE Corner
Bungoma governor Wycliffe Wangamati has been accused by members of FUND RAISING FOR A PROSTHESIS for lying to the public through his communications office that he singlehandedly bought an artificial leg for Mary Nasambu when he only contributed part of the total amount for the Kitale Polytechnic student.
Wangamati came to know about the plight of Mary Nasambu through a local radio station and after she had created FUND RAISING FOR A PROSTHESIS WhatsApp group to help her raise funds towards purchase of an artificial limb costing Kshs. 150,000/=. Five weeks after commencement of the online contribution, Wangamati through his protocol officer Mr. Moses Wafula made his personal contribution of Kshs. 45,000/= cash delivered at Mary's Webuye home. While at her home, the team placed a PR call to the county 039 CEO who was put on loud speaker
Wangamati's contribution was later enlisted and therefore acknowledged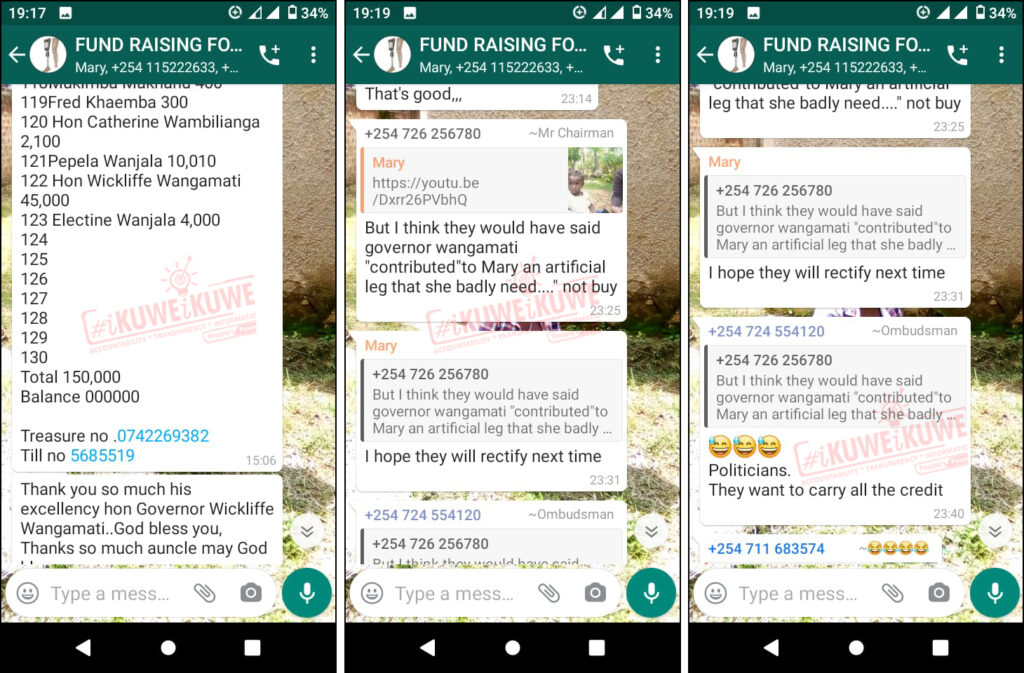 on the WhatsApp group's contribution (see screenshot) as another member added Kshs. 4,000 to hit the 150k target.
Out of the targeted 150k Wangamati through his protocol officer Mr. Moses Wafula contributed 45k
What has annoyed members is the fact that the communication team made every attempt to dupe the public that Wangamati bought the artificial leg alone. #iKUWEiKUWE is in possession of screenshots send to us and can therefore authoritatively say that members feel the governor wants to bask in full glory for contributing a quarter of the total amount while trying to blind the public and/or suppress those who collectively raised over Kshs. 100,000/= prior to his involvement (see screenshots)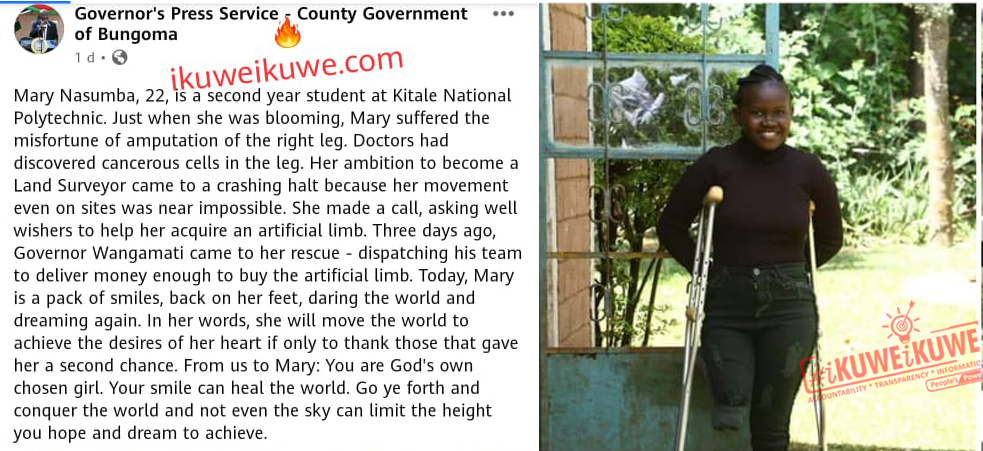 After hitting the fundraiser's target, the WhatsApp group's treasurer and Mary organized to purchase the artificial limb in Kitale from a supplier they had talked to prior to commencement of contribution. On Friday 30th April 2021 she acquired the leg.
Mary grew up as a normal girl enjoying use of both legs upto around form four when she started experiencing problems with her right leg. In 2019 she was diagnosed with Sarcoma cancer that saw her visit Chandaria hospital before returning back to school. But the reprieve didn't last for long for shortly after she started feeling the pain and discomfort and in July 2020 her leg was amputated and she continued with studies but she now faced a new challenge especially that her Land Survey course/profession demanded that she stays on her feet most times.
It's at this point that her friends encouraged her to do a fundraiser for an artificial leg
Mary and her mother Electine Wanjala thanked the governor for the 45k
#iKUWEiKUWE Corner;
Wangamati should not at any given time imagine he is doing us favors on matters Health. Health is a devolved function and its therefore our right to get services from OUR county government. The kind of PR stunts we are witnessing can only fool ignorant fellas. Its his responsibility to adequately equip our Health sector
The PR stunts witnessed at every turn Gov. Wangamati makes only makes me think he is the wrong person in office. Do these things quietly my fren. This is ain't CSR you are doing, it's a responsibility we ought to feel more as we read/hear less from your office… Its our money you are spending
As requested by a complainant, here is the list of contributor;
Contributions for Mary nasumba wamwana to raise 150 k

1. Purity musimbi     500

2 lokalei keno 200

3Elvis seli 100

4 Edward makokha 500

5.Naomi mukangai  500

6.Sarah kokonya 250

7.Cornelius Rutoh 200

8.Kennedy mucangi 100

9. Filex ingolan 200

10michael simiyu 100

11.Grace marshel 200

12.Joseph khisa 150

13.Betty Mbinji 1,030

14.Aremon ileny 200

15.Kevin wamalwa 100

16.Sarah chesome 200

17Dancan Okero 100

18Steven wamalwa 200

19Moses khaoya 100

20Fatma anyanga 200

21Stella nyamawi 200

22 Rachael chelongo  200

23Agneta walubengo 100

24Sophia Obisa 1000

25Anthony Kipkarat 200

26Eddah wafula 100

27Steve Otieno 200

28Stephen wafula 1,000

29Hillary Osodo 1,000

30Austine wamalwa 100

31Daniel nyamandi 100

32 Zibora khisa 100

33. Velma Nakhumicha 200

34. Agellina Ngei 100

35. Wilson kipruto 200

36. Sarah Ilavonga 100

37. Ibrahim obuoyoh  50

38. Rose Okumu 500

39. Scovia Ikaron  100

40. Mirriam Imali 230

41. Derrick Kipchirchir 150

42. Faith Wekesa 100

43. Sharon mayuba 100

44. Rebah Meccah Wanjala 200

45. June vusieka 50

46. Odera Otieno 100

47. Doricas korinyang 200

48. Mathew Ngira 100

49. John Chachi 50

50. Ruth Njoroge 50

51. Anthony Onyango

50. Stella Nelima Wanjala 100

52. Emmanuel olando 100

53. James Peter Kamau 100

54. Neville Yawa Nyamawi 100

55. Emannuel Wafula Juma 200

56. Valentine Anzemo 50

57. Brian wamalwa wanyonyi 50

58. Wanangwe Shikhutuli 50

59. Jane Ngugi 200

60. Stepheen Wilson 150

61. Brightone Amiani 50

62. Elves Simiyu Wamalwa 100

63. Briant Richard Namaswa 50

64Benson Wabwile Mumali 600

65Nancy Matokho Sirachi 300

66 Sainab Wekesa 50

67Miriam Kwamboka Kariri 400

68 Moses Ngaira Simiyu 50

69Faith Wangare Kariuki 200

70 Edwin Barasa 600

71Esther Janet Achieng Werimo 3,620

72Lona Nafula Nyongesa 1,250

73 Ezra Nyongesa 250

74Joash Ekadei Nachipon 50

75Sheila Wekesa 50

76Hagai Buluma 500

77Joakim Kipkorir 50

78Abraham Mucembi Karungure 750

79 Ruth Nekoye Kulundu 50

80Edwin Barasa 1,500

81Emanuel Mudukiza 50

82 Lona Nafula Nyongesa 1,800

83 Samson Kimutai 100

84 Limarus ptoo Samson 50

85Doreen Ogeto Kwamboka 100

86Christabel Simiyu 50

87 KITALE Fraternity 25,400

88 Sheila Machuma Were 500

89Emanuel Kweyu 300

90 Petralus Villtus Mastru 100

91Priscah Cherotich  Koech 50

92Simon Njogu 200

93Ester Nyongesa 200

94 BUYA Fraternity 21,990

95 Joseph Wanjala Sifuna 3,250

96 Charles Muwanga 850

97. Emmily Mutenyo 500

98. Grace Wairimu Njuguna 500

99. John Mukhwana 1000

100. Jane W Waihenya 1000

101. Dolizi Mideva 200

102. Calvin Wafula 500

103 Daniel Muwanga 100

104. Yuvinallis Arusa Makori 150

105. Kizito Makokha 150

106. Margaret Nandutu 100

107. Muliro Mukakula Makhanu 600

108. Peris Kenyatta 200

109. Faith Muwanga 200

110. Silvia Sikuku 200

111.  Vincent Nicholas Kabuagi 100

112. Christine Wambani Khaemba 500

113. Caroh Wekesa 520

114. Benjamin Makhanu 100

115. Antony Amutallah 500

116. Diana Wamwana 1,950

117. Humphrey Situma 500

118. Mukimba Makhanu 400

119. Fred Khaemba 300

120. Hon Catherine Wambilianga 2,100

121. Pepela Wanjala 10,010

122. Hon Wickliffe Wangamati 45,000

123. Electine Wanjala 4,000

Total 150,000

Balance 000000

Treasure no .0742269382

Till no 5685519