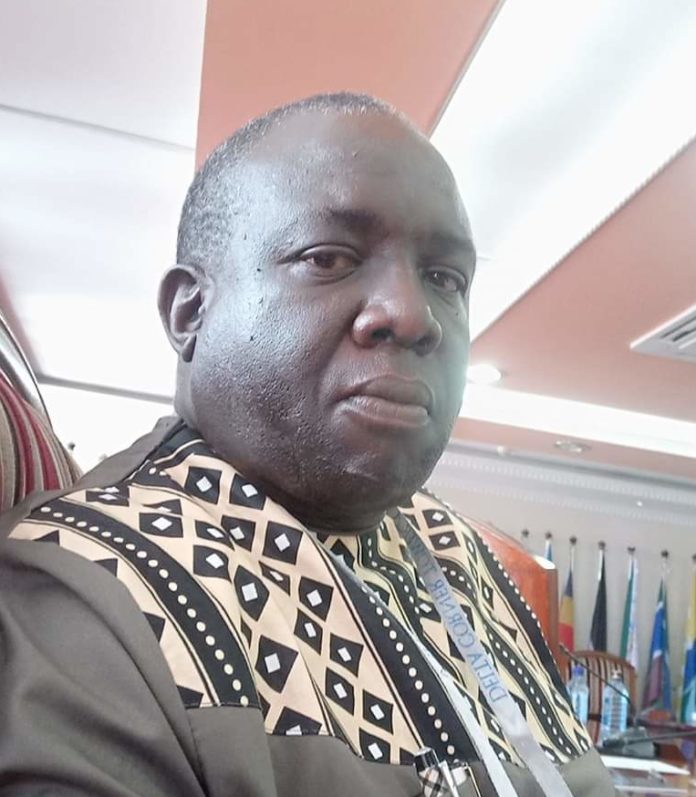 CECM HEALTH SIDES WITH 6 COVID-19 PATIENTS TO DEFY THE MULTISECTORAL TEAM
Dr. Antony Walela is on the spot for colluding with an influential Sirisia family to frustrate the Commissioner/DCI offices and the isolation health worker's directives to move 6 Covid-19 patients into Webuye Isolation ward. This comes after the demise of two sisters within one week over Covid-19 related illness, the last being buried on Friday, Aug 07,2020… The medical team in company of Bungoma County security team visited the Sirisia home and conducted tests on seven family members, 6 of them tested positive. The medical team then recommended that the 6 be taken to Webuye isolation ward a move that has been viciously condemned and fought by non-other than the CECM Health Antony Walela himself in partnership with the family.
conducted tests on seven family members, 6 of them tested positive
Walela is said to insist on a homebased care approach contrary to what the health workers and the security team had recommended basing on their findings. He is said to be talking directly to the patients and giving directives to the health workers as desired by the patients' family. One of the family members who works at National Housing Corporation is said to be a long-term friend to Governor Wangamati and Walela and since they are financially and politically correct they have made the CECM to be their spokesperson.
When the security and isolation teams visited the home with an ambulance… The family lectured them like kids and directed them (health workers) to consult their boss Walela. They insisted on being housed in an apartment of their choice a position supported by Walela. The CEC also lectured the security team telling them he is boss and that's final. The patients first wanted to be housed at Zuri (Buke refused), They are now in talks with tourist hotel over the same
In a rejoinder:
CECM Health, Dr. Walela insists that homebased care as launched by the National government must be embraced as he is projecting an upsurge of Covid-19 cases that our health facilities won't be able to handle. In that line the CECM asked the Health workers and security teams not to be excited by the existence of Isolation ward which in his view accommodates severe cases only.
Chief Officer Health, Patrick Wandili said homebased care is part of the National Government policy on Covid-19 management. Nairobi and Kiambu have totally adopted this… we hope to launch ours this coming week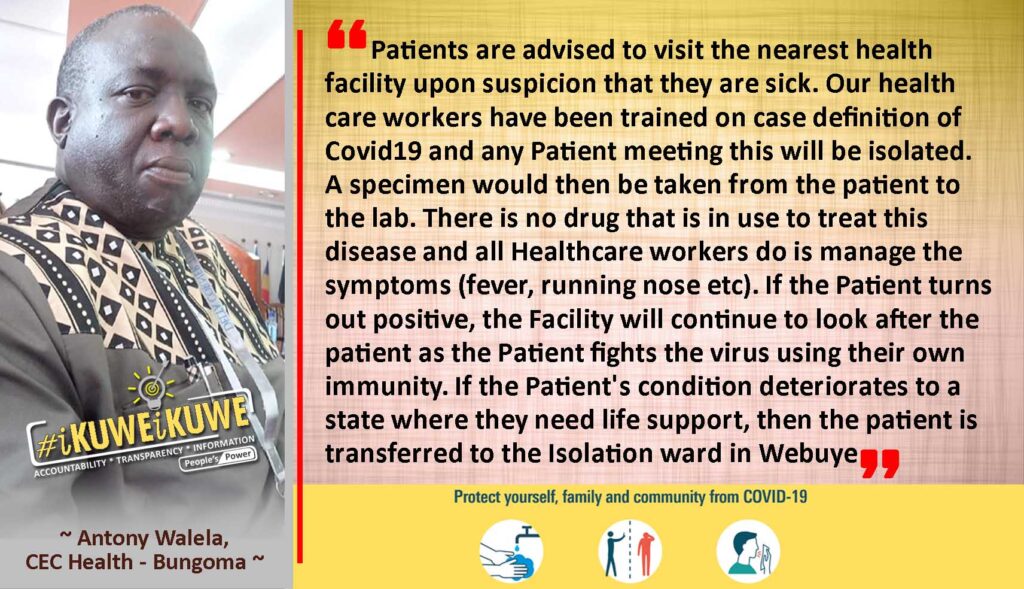 #iKUWEiKUWE Updates take;
We must not politicize and/or monetize this Covid-19 pandemic fight;
Bungoma County lied about the Covid-19 bed capacity… The isolation bed capacity is 20 and not 414 as the executives want the public to think. The Webuye isolation Centre has NO ventilators
What if the CECM meets the multisectoral team and deliberate on these issues so as to read from the same page instead of subjecting them to public ridicule and lectures from people (patients) who should be taking their recommendations without questions.
We also need to be told where… 50+100+300 millions received from the national govt. to fight Covid-19 is
…………………………………………………………………………………………………………….
NOTICE: ikuweikuwe.com has been attacked by hackers 5 times in the last 48 hours. One of the hackers had an account of our #iKUWEiKUWE Movement's Facebook page GIVING ME A REASON TO BELIEVE HE MIGHT BE SOMEONE WHO KNOWS ME IN PERSON. We apologise to our readers for the inconveniences caused… We nevertheless wish to inform you that we must brace ourselves for the worst.
OUR TECHNICAL TEAM IS WORKING ROUND THE CLOCK TO SECURE THE WEBSITE PERMANENTLY