In Summary;
Decline letter
Statehouse directive
DG Ngome's irreducible minimums (video)
Rejoinders (Wamunyinyi, Eseli)
The Forum for the Restoration of Democracy–Kenya (FORD–Kenya) party has in the recent past been surrounded in squabbles between worrying factions that threaten to split it in half. One faction has stayed true to the Party leader and Bungoma senator Moses masika Wetangula as the splinter group (Coupe plotters) led by Wafula Wamunyinyi, Wafula Wangamati and David Eseli have been pushing to dethrone Wetangula.
Following the planning of two different National Delegates Conferences (NDC) by two worrying factions; One led by Ford Kenya party leader Moses Masika Wetangula to be held at Bomas of Kenya on 4th Nov 2021 and the other led by Kanduyi MP Athanas Wafula Wamunyinyi scheduled to be held at Kasarani stadium on 6th Nov 2021
The Karasani NDC hit a snag when Sports Kenya Director General Pius Metto in response to a letter he received on 7th October 2021 wrote to the Secretary General and copied to the Party leader (Moses Wetangula) of the Forum for the Restoration of democracy, KENYA (FORD KENYA) announcing his regrets to a request to use Karasani Stadium on 6th Nov 2021
also read;
In the letter the Mr. Metto indicated that the request was turned down following a court order that barred Ford – Kenya from holding any public meetings. Metto went ahead to regrettably INFORM THE SG that they made an error by informing the public through print media of an intent to hold the delegates meeting at Kasarani without the facilities management consent.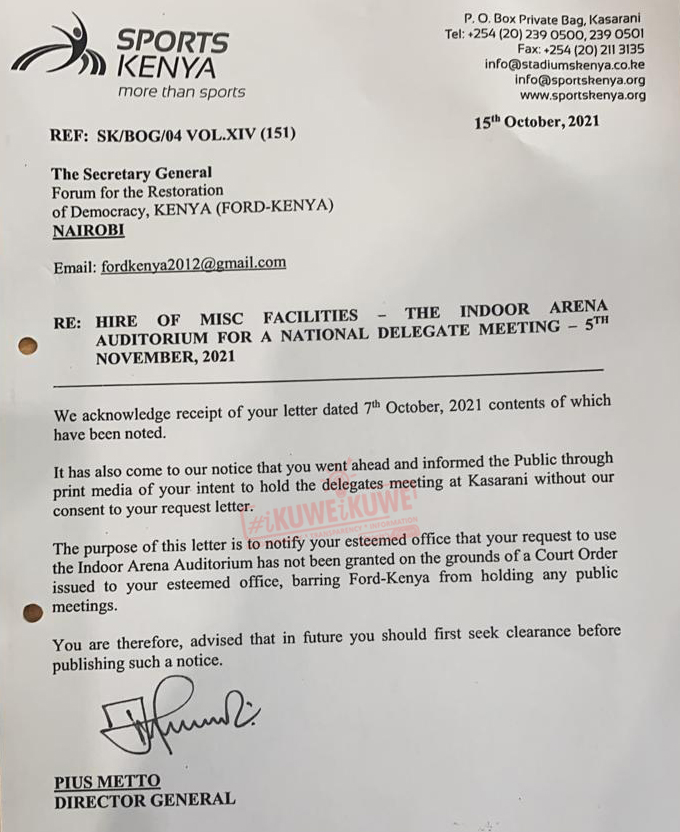 Statehouse directive;
ikuweikuwe.com has nevertheless been reliably informed that an order from above prompted the decline as statehouse was not in agreement with the way pro-Kasarani NDC planners were bragging of ferrying, bundling all delegates in the indoor arena auditorium at these Covid-19 times
Flashback;
Deputy Governor Ngome in a video attached here indicates that they do not support virtual voting as they plan to attend both the 4th Nov 2021 NDC at Bomas and the now disqualified 6th Nov 2021 karasani NDC planned by the splinter group
Rejoinders;
Kanduyi MP Hon. Wafula Wamunyinyi termed the letter as fake
Tongaren MP Hon. David Eseli while disqualifying the letter asked why it had no rubberstamp
Bungoma Senator and Ford Kenya Party leader Moses Wetangula indicated that the letter is authentic saying he has a copy as received from Director General Pius Metto