In Summary;
Exchanges between Exec and Assembly (Videos)
6 Chief Officers without salaries
SDUs irregularities
Committee's directive
It's about one week the CEC for Public Administration, Mr. Richard Sabwami honored a committee summon to give highlights on among other issues the elusive employment of village admins. The meeting ended in a stalemate following the Executives failure to table some crucial details in their submissions forcing the Public Administration Committee led by Khalaba MCA Hon. Majimbo Okumu to assign another day 5th Oct 2020 where the Executive member was supposed to avail them as well as tag along all the relevant technocrats he might need to assist him explain…
On Monday, October 5, 2020 the CECM arrived at 09:00hours accompanied by Chief officers; Denson Barasa – Public Service Management and Administration, Governor's office, Chief Officer Mukenya – County Secretary's office and the Secretary to the County Public Service Board… They were grilled for 6 straight hours BUT still they again turned out to be ill prepared for the Public Administration committee
NO budgetary provisions for the employment Village admins and six recently appointed Chief Officers
The Committee was therefore NOT surprised when the executive failed for the second time running to table the crucial documents they had initially promised to deliver on this day as it came out clear that there was NO budgetary provision towards employment of Village Admins and 6 recently appointed Chief Officers…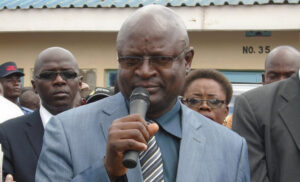 Documents they could not table;
An updated Payroll
A breakdown of the Personnel budget for Governor's office
A breakdown of the Personnel budget for Public Administration depart.
Some of the baffling discoveries made by the Committee included;
There exists NO budgetary provisions for the employment Village admins and six recently appointed Chief Officers
The Executive claims it has surplus… meaning;

The executive must seek re-appropriation thru a supplementary budget
They must demonstrate to the Budget Committee led by Kimaeti MCA – Hon. Jack Wambulwa and convince it that indeed there exists the said surplus by tabling a breakdown from the two departments
The Service Delivery Unit (SDU) has not been regularized

CPSB CEO confirmed
The purported membership of holders to these illegal positions in the Service Board is therefore illegal
Their earnings are irregular and therefore illegal
THE COMMITTEE ORDER;
The Public Administration committee therefore directed Chief Officers Public Admins and Governor's office to;
Table a breakdown the APPROVED personnel budget showing how monies have been expended. This would assist the committee ascertain whether its tenable to employ village administrators
……………………………………………………….
#iKUWEiKUWE rat informs the taskforce did not have a legal backing (No Terms of reference, not gazetted, and therefore everything it did remains null and void
Bungoma County Centralized Unit ACT 2015… Upon the expiry of any taskforce, the next one should be constituted in the 8th year… meaning the next task force after the Lusaka's 2014 (expired in 2015) Should have come in 2023. Governor Wangamati nevertheless in 2020 irregularly made an addendum on the expiry of the 2014 taskforce by publishing it in the dailies. Little did he know that that can only be possible on an active taskforce and not the Lusaka's that had expired with the handing over of their report.
Video clips of leaders' take on the issue;
Employment of Village Admins will have to wait – Hon. Majimbo Okumu – Khalaba MCA, Chair Public Admin
Challenges faced by the Budgeting committee in budgeting for Village Admins – Kimaeti MCA, Jack Wambulwa – Budget committee chair
Clip 1 – The Assembly is delaying the employment of Village Admins – CECM Public Admin – Richard Sabwami …1
Clip 2 – The Assembly is delaying the employment of Village Admins – CECM Public Admin – Richard Sabwami …